We Appreciate Our Loyal Healthy CRUSHTAB Lovers!
Be Well Labs proudly announces DESIGNER CRUSHTABS! Now you can order CRUSHTABS in a new array of amazing essential oils! We continue to innovate to bring you the cleanest, healthiest dental supplement ever! Your mouth will love you!
Fall is upon us. CinnamonFire™ kicked off our 2023 summer. Now spice up your fall festivities with Ginger CRUSHTABS!
Oral Wellness System and Crushtabs
Now you can position yourself for oral self-sufficiency and rarely, if ever, have to visit the dentist again.
Is it really genetics that gave you bad teeth? Or is it aging? Or is it not enough flossing?
The truth is that we were never given the right tools to prevent dental and periodontal disease.
When were we taught the importance of oral health in having total health?
Fortunately, the Oral Wellness System helps you take back your oral health with four easy steps.
This kit contains CRUSHfloss stringless floss, Cavi-Clean 17% hydrogen peroxide, 100 CRUSHTABS, CRUSHoil gum conditioner.
Get the Oral Wellness System & other products sold separately…
Shop CRUSHTABS Products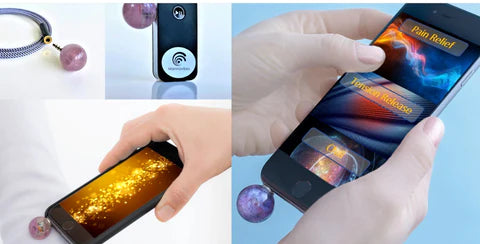 Mannavibes
"Change your frequency, change your life"
Use with the all 13 app functions:
Resonance I, Love, Pain Relief, Tension, Chill, Recovery, Sleep, Energy Flow, Cell Energy, Bio Photons, Purify, Female Energy, and Male Energy
Purchase Here!